Cajunisland.com Recipes!

Bourbon Chicken Recipe
Just lightly marinate cut up large chunks of boneless dark meat chicken overnight. Then grill or sautee the next day on medium heat till done. Serve on your favorite rice or pasta, and drizzel with a little more Blackened bourbon sauce, also makes a great kabob.

Broiled Teriyaki Chicken
Cut up whole chicken, rub with salt, pepper and garlic, broil on grill then drizzle with Paradise Teriyaki Sauce.

Salsa
Place in large container to be refrigerated
1 # 10 Can diced tomatoes
1 # 10 Can Tomato Puree
1 Cup Sugar
1/2 Cup Cider vinegar
2 Cups Water
1 Tbsp Salt
1 tsp Black Pepper
Chop
1 Bunch Cilantro
10 Jalepeno's
2 Lg spanish Onions
Mix all together and refrigerate 6 hrs and serve will last 3 days.
Blackened Steak or Chicken ConQuistador
When Salsa is left over simmer on low heat for 1 hour
then Blacken a Steak or Chicken Breast, top with cooked Salsa Cheddar Jack Cheese, and melt in oven, then top with scoop of sour cream and chopped scallion, diced Tomato and sliced Black Olives. You have just made Blackened Chicken or Steak ConQuistador.

Jazzy Meatballs
Bake your favorite meat balls, drain then cook in Jazzy Jerk Sauce for 20 minutes and serve.

Jazzy Sweet Potatoes
Place drained, cooked sweet potatoes in pan, with Jazzy Jerk sauce warm 20 minutes at 350 degrees, then add marshmallows 5 minutes before serving.

Teriyaki Chicken Pizza
Using premade pizza crust, put on paradise teriyaki sauce and mozzarella cheese, dice pineapple and cooked cut up chicken, bake and serve great taste and easy to make.
Also can use sauce, cheese, bacon ham and pineapple for our version of Hawaiian pizza.

Paradise Wings
1/4 cup of pepper and 1 quart of flour mix and bread fresh wings. And fry for 20 minutes at 300 degrees. Drizzle with the desired amount of paradise sauce and serve.

Sweet Blackened Veggie Sub
Sautee' your favorite garden vegetables till liquid evaporates, then stir in Cajun Island Sweet Blackened Sauce, place on grilled sub bun and top with melted provolone and serve.

Sweet Blackened Stir fry
Use any combination of vegetables, tofu, chicken, beef, pork shrimp scallops etc, stir fry and add your favorite Cajun Island Sauce at the end and pour over rice lomein or your favorite pasta.

Poached Salmon With Sweet Blackened Sauce
Purchase fresh Salmon, poach in steam bath till done, and drizzle with Paradise Sweet Blackened Sauce. Serve with a lemon twist and parsley sprig.

Blackened Mahi-Mahi
Bread fresh Mahi-Mahi with Paradise Blackening Spice and char in pan with smoking hot cooking oil for 3 to 4 minutes on each side till black, remove from pan and bake till done and serve on a bed of fettucini alfredo and drizzle with sweet blackening sauce. Garnish with grilled pineapple and green onion.

Paradise Battered Mushrooms
Use premade frozen battered mushrooms from your favorite grocer, or use a tempura batter on fresh mushrooms fry in oil at 300 degrees and drizzle with paradise sauce.

Sweet Blackened Burgers
Rub hamburgers with blackening spice and broil on high till done, place on grilled bun with provolone cheese and Sweet Blackened Sauce. Garnish with grilled onion.

Tempura Chicken Or Shrimp
Dip chicken pieces or raw shrimp into tempura batter, and fry till done. Then coat with paradise sauce and serve.

Broiled Thai Peanut Pork Kabobs
Cut up pork loin in 1 inch chunks, Place on skewer's with favorite vegetable's and broil till done. Place on bed of rice and warm up 1 cup Paradise Teriyaki Sauce with 1 teaspoon of peanut butter, and a handfull of peanuts mix and pour over kabob.

Blackened Butterfly Pork Loin, Chicken Breast, Steak, and Baby Back-Country Ribs
Use Cajun Islands Blackening Spice as a breading for your meats, after breading meats, place thick aluminum sautee pan on high burner on grill outside, or in house if you have outside exhaust. Put half inch of cooking oil in sautee pan, and let oil start to smoke, then put breaded meat into pan carefully and blacken for a few minutes on each side. Meat should be black not red, if not black oil was not hot enough. After cooking meat place in another pan and place into oven for 20 minutes at 350 degrees till done. If making baby back ribs or country ribs put into oven when done blackening for one hour at 350 degrees. Serve with your favorite Cajun Island sauce. Congratulations you have it.

Blackened Deep Fried Turkey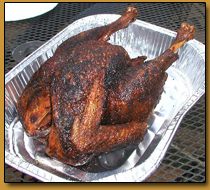 Rub turkey inside and out with Cajun Island Blackening Spice, preheat oil to 350 degrees. Fry for 15 minutes then drop heat to 300 degrees for another hour for an 18 pound turkey, and serve with your favorite Cajun Island sauce.

Blackened Chicken With Bowtie Pasta
Award Winner!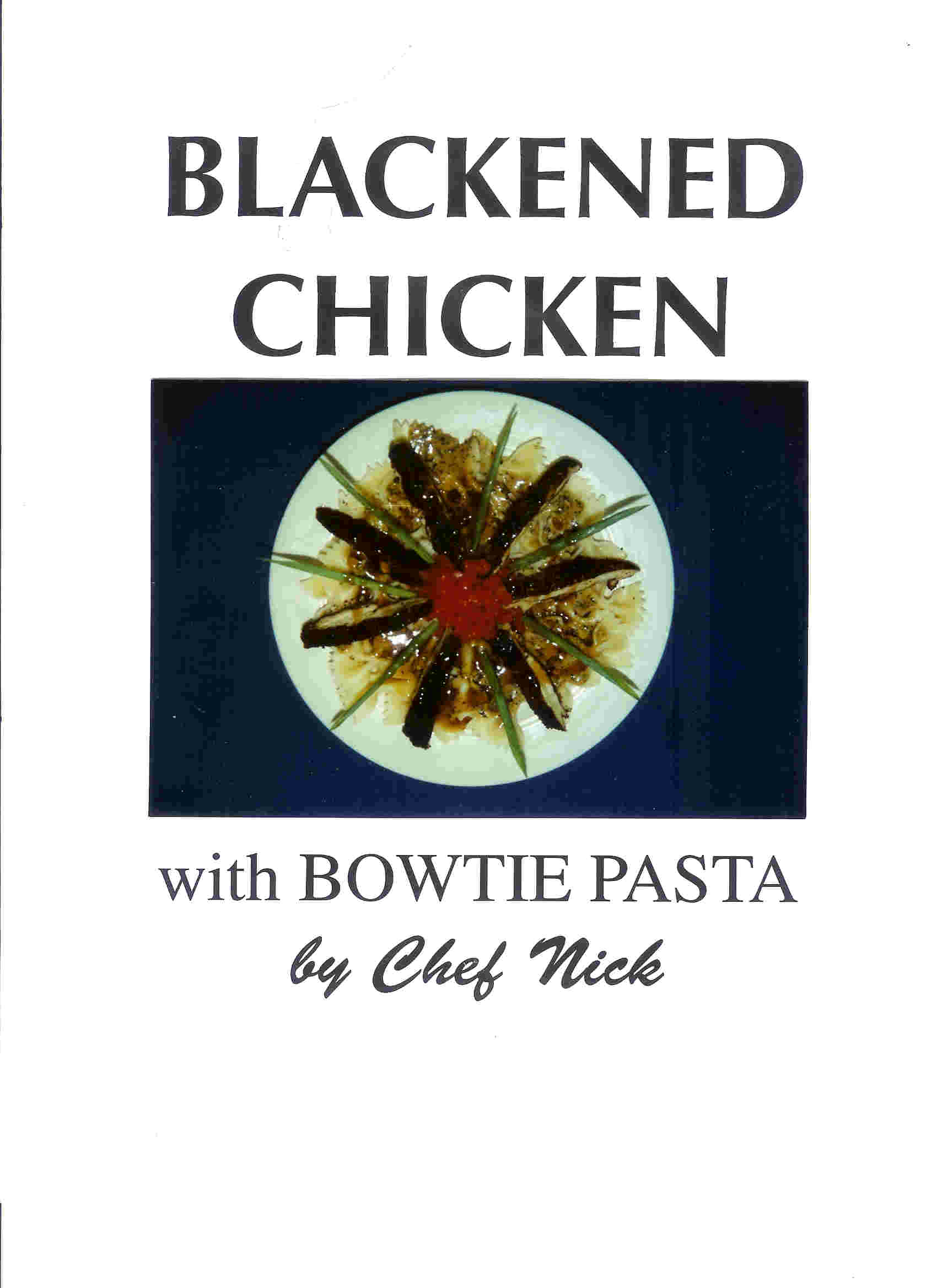 Blackened chicken breast in pan, set in oven or grill to finish cooking, then add 8oz heavy cream, 1 tsp dry basil, 1 tsp dry ranch dressing mix, to drippings in pan reduce till thick, and pour over plate of cooked warmed bowtie pasta and then cut up chicken breast in strips and place on pasta in a wagon wheel fashion. And add tbsp of diced red peppers to center, and scallion slivers around the chicken, and then drizzle with paradise sauce. You will get everyone's attention with this one. And be the talk of the town.
Be the blackened King or Queen of your neighborhood !
Cajun Islands Sauce and Spice have hundreds of uses, be creative, and you will be appreciated.
Thank You
Nick Ney
Chef Owner of Cajun Island